This awesome new twist on the traditional quiz night has the convenience of all of the answers on the playing card in front of teams, combined with the excitement of stamping your way to a completed row and shouting the age-old war cry of "BIIIINNNGOOOOOO!!!" across a crowded room.
Give Trivia Bingo a try and you'll discover why Nana turns into a crazed, Zimmer frame swinging maniac on her one night out a week!
Easier than our standard quizzes as answers are in front of you.
Designed to be run in pairs, although several pairs may sit together.
Aimed at all ages.
Around 100 questions each night on the big screen.
Six ways to win, by stamping out answers on a card.
Don't take our word for it, here's what others had to say during our January trial at the Horse and Trap:
"We loved that there were a whole heap of 'a-ha' moments. It was ideal for us as my husband and I love a quiz and we are usually up against teams of 8. The bingo format was really fun, because you started working out strategies for answers you thought could be right and you'd take a punt – and it worked!" Lara, Epsom.
"Once you realise the bingo factor format it is light hearted and a lot of fun. Can't wait for next week's now we have figured out how it all works!" Dianne, Orakei.
"Excellent concept and great fun, and my penny dropped about strategies about half way through. Will be taking a punt on 'Bingo' a lot sooner next time. I'm already looking forward to going again next week." Liam, Papatoetoe.
"I usually suck at quizzes so I liked that all of the answers were already written down in front of me. I just had to figure out which ones were right!" Tony, Royal Oak.
To find out more, drop us a line at info@believeitornot.co.nz.
Trivia Bingo – where quiz meets bingo!
North Island
NZ
South Island
NZ
Sample Trivia Bingo Scorecard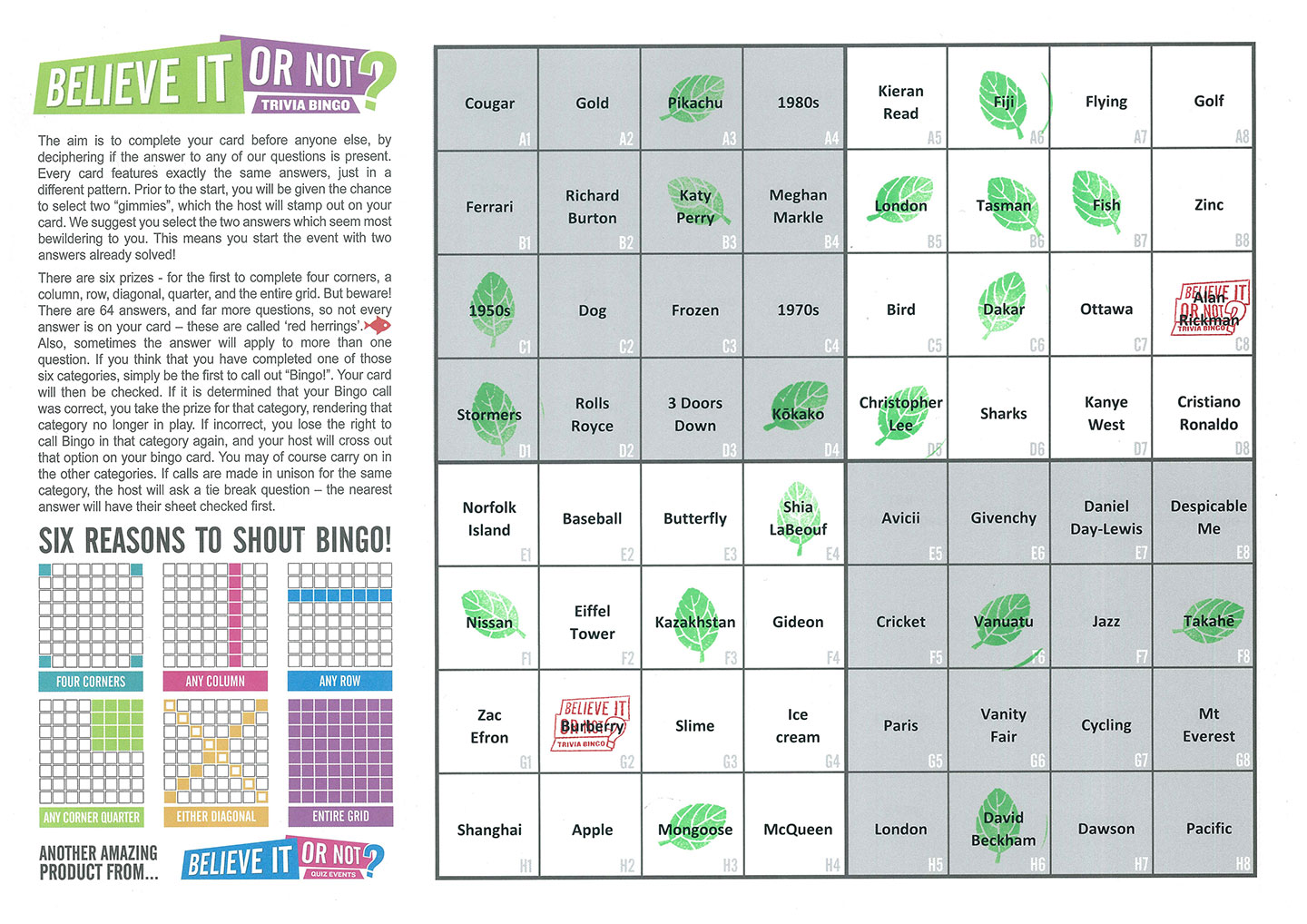 Our Trivia Bingo Posters