Our Believe it or Not corporate quiz nights offer your company the opportunity to bring either staff or blue-chip clients together for an afternoon or evening of serious hilarity.
Where once trivia was seen as a pub quiz general knowledge game for octogenerians, these days both young and old embrace the concept, as a wave of trivia related events sweep the country.
We have several different styles of quiz packages, depending on your budget, from the original English pub quiz format, to our multimedia big screen quizzes, to a virtual app based quiz.
Our standard quizzes contain eight rounds of ten questions, plus other fun components like 'Last Man Standing', 'The List' and 'The Ponderous Puzzle'.
Competing team's answers are always written, to ensure that nobody is put on the spot or required to do any public speaking (although we encourage any light-hearted interaction).
Our quizzes are not 'Mastermind' based; they are for everyday people and cover interesting topics including popular culture. The majority of our corporate clients are businesses who seek to provide their staff and/or clients with a hassle-free, fun yet competitive night of entertainment, which usually then becomes an annual event.
It's also perfect for your company's conference, your local school event, fundraisers or a sports club. We take the hassle out of organising the event by supplying everything required to run the quiz, or supply you with a DIY package.
We like to cater to your individual needs, whether that means bringing our quiz on-site to your business or at a pub or function centre of your choice … we'll take care of everything!
Find out More
Please contact us on events@believeitornot.co.nz for further information.
---
Demo Quiz
Want to test yourself out?
It has been said that a picture is worth a thousand words. In this case, perhaps ten thousand! Immediately below you can see a demo of our multimedia quiz, and below that, an example of a topic sheet, answer booklet, scoreboard and point-of-sale.
Virtual Quizzes Now Available!
Do you want an easy way to bring your workmates together? Try our new virtual app-based Zoom quiz! It truly is a great way to bring your staff together for a serious laugh! And it's perfect if your team is scattered all over the country too! Email us for our virtual packages now - info@believeitornot.co.nz. Oh, and if you fancy having the Dark Destroyer as your host, we can maybe arrange that too – he loves hosting our quizzes!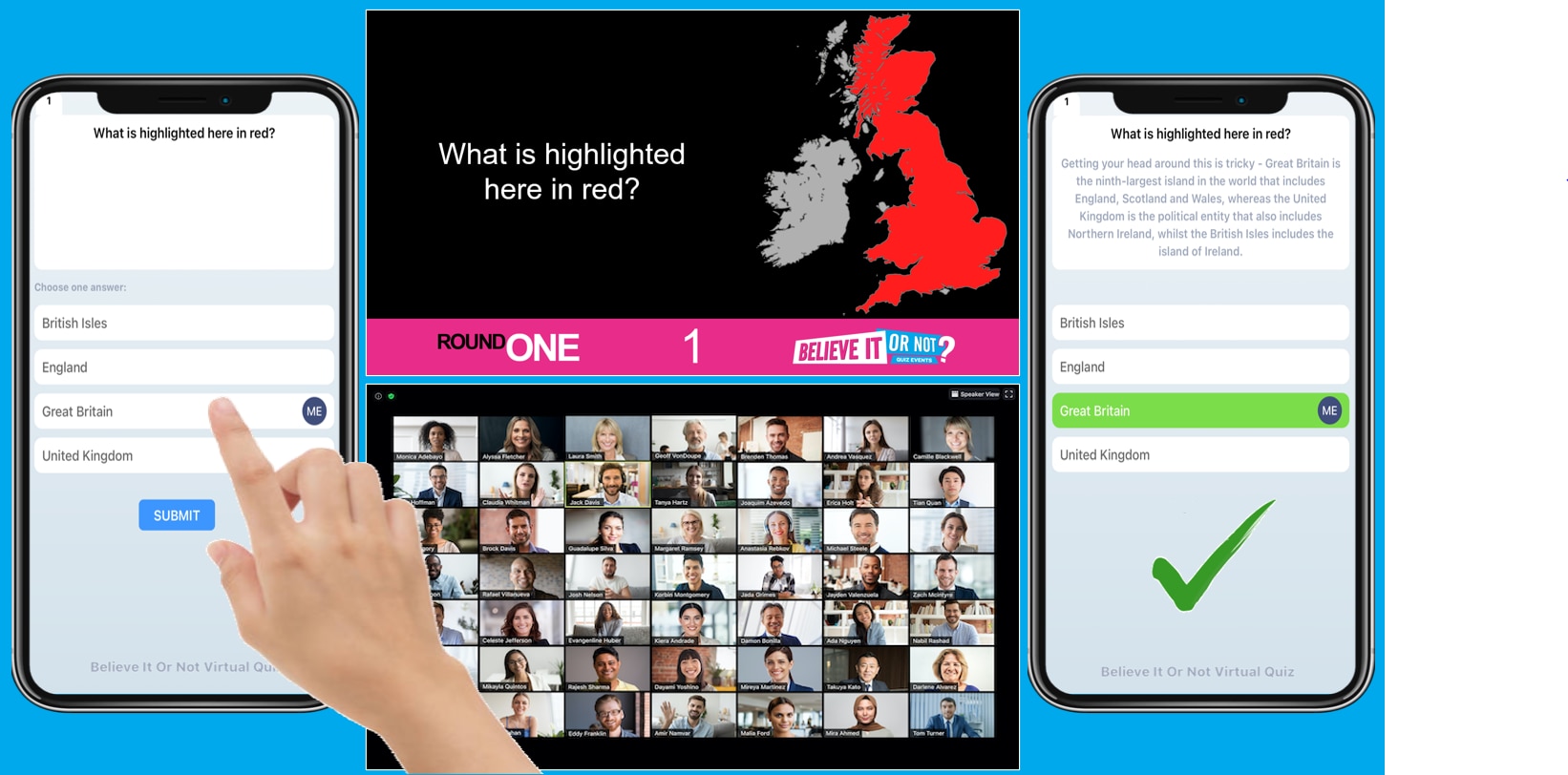 ---
What's in the Quiz
Every quiz is made up of several different components. Each is explained below:
8 rounds of questions
The topics take in every possible area of interest, and will feature both recent and historical content. Some questions will be obvious to a four year old, whilst Granny will have no idea, and vice-versa!
The Joker
Play me well. The success of your team depends upon it!
Choose one round before you start for which your points will be doubled. A team's success is pivotal to choosing which rounds are their strongest suits. The best way to determine this is to pass around the topic sheet, with each team member selecting their favourite rounds. The two most 'ticked' topics are where you should play your Jokers!
Ponderous Puzzle
An ongoing problem where a clue is given at the end of each round. It could be a famous person, year, country, object, movie, book or band. The clues get progressively easier, with teams receiving points dependent on how quickly they solve it. The quicker they solve it, the more points they get.
Last Man Standing
A 'heads or tails' style individual competition run in 'quiz' style. Usually run as an ice-breaker to start the night, you have a sheet of ten questions. Everyone stands up. Ask the first question, and give the two answer options. If a person thinks the first answer is correct, they put their hands on their head. If they think the second answer is spot on, they'll put their hands on their bottom. Announce the answer and anyone who gets it wrong must sit down. Carry on in this fashion until one person remains. They win a prize!
The List
This takes place halfway through the quiz when you take a drinks break. Read out the category for The List. Teams write down ten items relating to the category, taking care to write down their 'dead certs' first on The List, and their hunches last. This is because once they get one wrong they break the chain, and stop scoring points. For instance, if they get number 5 wrong, yet get numbers 6 - 10 right, they only score 4 points, as the chain of correct answers was broken at number 5.
---
Frequently Asked Questions
We get asked all sorts of things about how the quiz is run, or how to organise one from scratch. Here are a few common questions along with some answers that may help you out:
Can we run your quiz package anywhere in New Zealand?
We're nationwide, but in some areas we rely on you to run the quiz as a DIY option, after we supply you with everything, and liase with your host to ensure the night will run smoothly. Currently we can host your quiz in Whangarei, Auckland, Hamilton, New Plymouth, Tauranga, Rotorua, Wellington, Nelson, Christchurch, Queenstown and Dunedin.
Who do the questions cater for?
The questions are aimed at a wide audience - men and women, young and old, and are designed to cater for as many people's interests as possible. They're also not aimed at rocket scientists - rather, everyday people.
Do we organise the venue or do you?
We can usually recommend a venue in your area, however we leave that side of it to you. We just need to know when and where, what time, what package you require, and how many teams you will have.
How long does the quiz take?
Our One Hour Quickie quiz can be run in as little as 60 minutes (funny that!), or as long as 3 hours. Ideally though, for our most popular product, the standard multimedia quiz, you should aim for 15 minutes per round, so around two hours for the eight rounds. This is obviously affected by additional activities, auctions and the like.
Can we set our own questions relating to our business or organisation?
You sure can! If you want to do this, we suggest you add one question to each of our rounds, or perhaps theme 'The List' around your company or organisation. If we need to specifically tailor your quiz, additional charges may be applicable.
Do you supply any prizes?
In short - no. We leave that all up to you.
Is it a team event or is it done as individuals?
It's done as a team. All the answers are written, so maximum participation is guaranteed, and no-one is put on the spot, by having to call out answers.
How many should we have in each team?
It really doesn't matter. Best bet is to have at least six teams, so if you have 28 people , do seven teams of 4, or if you have 100 people do ten teams of 10. Try and keep it as a level playing field as much as you can though. The more even the numbers on each team are the better.
What equipment do we need if we opt to run a DIY quiz?
The multimedia quiz is a Windows based product. We will send you a download link from which the multimedia component of the quiz is delivered. You will need a Windows laptop, and either a projector and screen, or large-ish TV for the teams to see. If using a projector and screen you will also need a VGA or HDMI cable which transfers the pictures from laptop to projector, plus an audio cable from your headphone socket to your audio output (usually a sound system or set of desktop speakers – Logitech ones are really good). If using HDMI between laptop and a TV, the audio component is usually provided directly via the HDMI cable.
Optional Extras: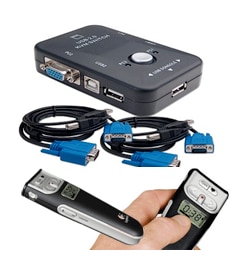 KVM Switch: If you have access to two laptops, a simple KVM switch will allow you to quickly switch between the quiz and the scoreboard. It is possible to run both the quiz and the scoreboard on one – however you would then need to stop the quiz to update the scoreboard, and unplug the cable too, so no-one can see you inputting scores. A KVM switch means you can select one laptop or the other at a push of a button. They are usually VGA, but can be HDMI too.
Wireless Presenter: Don't be chained to your laptop – plug in the Wireless Presenter and you can be anywhere in the venue and advance the quiz – the presenter acts as the 'down' key. It also pays to get one which has volume control, although these are harder to find – the Logitech models are awesome.
Troubleshooting - What if I cannot get it to work?
If for any reason the videos will play on your laptop but not the TVs, it's a simple fix – you need to toggle between screens. Hit Function and F5 one more time (it may be F4 or F8 on some laptops – look for a TV symbol). You will probably find the picture disappears from your laptop, but is still present on the screen. This changes the big screen to the 'main' source, and it's not relevant if you cannot see it on your laptop really.
If you are having issues getting sound and video, open Powerpoint directly on your laptop, then open the quiz file by using the File, and Open command, then selecting the file you wish to use from your downloads folder. This is also the most stable way to run your quiz. You will need to agree to enable editing, and then select Play Slide Show once the file opens.
Handy Docs
---
Special Deals
If you are a school, club or non-profit organisation looking to put together a fantastic fundraising event or function for your staff or clients, please contact our team for details of our special deals.
Fundraiser Quiz Cheat Sheet (for organisers)
We've put this cheat sheet together so you can really maximise the return from your fundraising effort. This has been partly put together by one of our corporate hosts who has hosted over 100 fundraisers so we encourage you to follow these tips and your guests, your host and you will have a great event!
---
Terms & Conditions
All quotes are subject to acceptance within 30 days. Equipment and hosts are also subject to availability, an extra charge may occur if we have to out-source any equipment and/or a delivery fee.
If your event involves a supplied host and runs over 3 hours, an extra charge may occur. Please let us know at the time of your booking if you think your event will be longer than 3 hours from set up to pack down.
If you cancel your event:
14+ days prior — no charge will be required.
7-14 days prior — 25% is required.
1-7 days prior — 50% is required.
On the day — 100% of the total amount will be required.
If you make a booking less than 3 days out from your event, you may be required to pay the full amount via credit card.