Established in 1998, in Auckland, Believe it or Not Quiz Nights pioneered the quiz industry in New Zealand. We are New Zealand's largest provider of quiz nights, and trivia based products. You may have seen our questions whilst travelling domestically on Air New Zealand planes, on the SKY TV quiz channel, in the NZ Herald newspaper or online with NZME. This aged care product is designed to cater for people with interests that suit the age group 65+.
Interactive Quizzes
This product is designed to be interactive, using your village's communal area's entertainment system to run the entire night through big screen projectors or televisions (although we also have a version you can use without TVs). Needless to say, the quiz host is still an integral part of any quiz night, and is trained accordingly. Each quiz contains six rounds of ten questions, plus a 'Last Man Standing' competition, 'Ponderous Puzzle' and 'The List', and lasts approximately 90 minutes. The categories change every time, to ensure a wide variety of subjects are covered.
---
Demo Quiz
Want to test yourself out?
It has been said that a picture is worth a thousand words. In this case, perhaps ten thousand! Immediately below you can see a demo of our multimedia quiz, and below that, an example of a poster, scoreboard, and answer booklet
Imagine this magnified on to your entertainment system!
---
What's in the Quiz
The quiz is made up of several different components. Each is explained below:
Six rounds of questions
The topics change every week, and will feature both recent and historical content.
Ponderous Puzzle
An ongoing problem where a clue is given at the end of each round. It could be a famous person, year, country, object, movie, book or band. The clues get progressively easier, with teams receiving points dependent on how quickly they solve it. The quicker they solve it, the more points they get.
Last Man Standing
A 'heads or tails' style individual competition run in 'quiz' style. Usually run as an ice-breaker to start the night, you have a sheet of ten questions. Everyone stands up. Ask the first question, and give the two answer options. If a person thinks the first answer is correct, they put their hands on their head. If they think the second answer is spot on, they'll put their hands on their bottom. Announce the answer and anyone who gets it wrong must sit down. Carry on in this fashion until one person remains. They win a prize!
The List
This takes place halfway through the quiz when you take a drinks break. Read out the category for The List. Teams write down ten items relating to the category, taking care to write down their 'dead certs' first on The List, and their hunches last. This is because once they get one wrong they break the chain, and stop scoring points. For instance, if they get number 5 wrong, yet get numbers 6 - 10 right, they only score 4 points, as the chain of correct answers was broken at number 5.
---
Frequently Asked Questions
Here are a few common queries we get, along with some answers that may help you out:
WHY SHOULD OUR VILLAGE RUN A REGULAR QUIZ NIGHT?
Quiz nights are extremely popular and universally loved. They are a great community event, that attract a very loyal following of people, and inspire your residents' well being! Once established, the quiz runs itself, as everyone knows what to expect and it's a highly addictive hobby!
How often should I run a pub quiz?
Our research including live testing and surveys indicates that monthly is best at first - although with the minimal costs involved it does also lend well to a weekly or fortnightly event if it proves popular. In the licensed premise sector, 99% of our pubs and clubs run it weekly after all.
Who do the questions cater for?
The questions are aimed at a wide audience - men and women, aged 65+, and are designed to cater for as many people's interests as possible. They're also not aimed at rocket scientists - rather, everyday people. We want teams to get more right than they get wrong, or they'll not come back next time!
Is it a team event or is it done as individuals?
It's done as a team. All the answers are written, so maximum participation is guaranteed, and no-one is put on the spot, by having to call out answers.
How long does the quiz take?
A quiz can be run in as little as 90 minutes, or as long as 2 hours – you will find your sweet spot. Ideally though, you should aim for 15 minutes per round, so allow around 1.5 hours for the 6 rounds. This is obviously affected by additional activities, and every village will have their own take on it.
How many players are in each team?
The most simple answer to this is to say teams of at least two people. There are good reasons for not limiting team size, mostly really is that it's way less admin, and is after all mostly a fun event.
Should we charge teams to enter?
Maybe. It depends what you are trying to achieve. Charging teams can be useful to recover your costs, but a nuisance in terms of collecting the fee, and may even stop some people who happened to be onsite from playing at all. Often, a team who were in the venue for a short time can be cajoled into playing if it's free, and often they'll be the last team to leave, despite their protests at the start that they were not "staying for long".
Are the questions accurate? How do we know everything you ask is correct?
We check each question for accuracy when we make it. Once the quiz has been prepared, we ship it to a couple of trivia-heads who then meticulously check each question. They give us feedback regarding accuracy, ambiguity and whether a round is too easy or too hard. We are only human though, and occasionally something slips through the net. Not often though, 99 times out of 100 it's the bloke in the lounge grandstanding with a few sherries under his belt who's adamant he's right when actually he's wrong!
Do you supply any bar tabs or prizes?
In short - no. We leave that all up to you.
What should we offer as prizes?
Bar tabs and restaurant vouchers usually do the trick. There's no need to put any cash up for grabs. Teams are there for the pride of winning, but do expect a reasonable prize. Usually first, second and third, plus perhaps a second-to-last prize, with a couple of spot prizes thrown in. Or you can get a sponsor involved and that's taken care of.
Do we organise the quiz host or do you?
We can sometimes recommend a quiz host in your area, however we prefer to leave that side of it to you. Our core business is to make the best product we can, and deliver it to you each time.
Are the questions New Zealand biased?
Our questions certainly have New Zealand content, but it is world biased, as most historical content involves countries from all of the world over!
What equipment do we need?
The program is PowerPoint, so you will generally need a Windows laptop, and either a projector and screen, or large-ish TV for the teams to see. If using a projector and screen you will also need a VGA or HDMI cable which transfers the pictures from laptop to projector, plus an audio cable from your headphone socket to your audio output (usually straight into the auxiliary channel of your sound system or a set of desktop speakers – Logitech ones are really good).
If using HDMI between laptop and a TV, the audio component is usually provided from the TV directly via the HDMI cable, but this method probably won't provide sufficient volume for the venue, so again, use your in-house sound system's auxiliary channel. If you are planning on running the quiz on multiple TVs, you will need to get expert advice as every venue is different, but you will probably need a video splitter.
Optional Extras: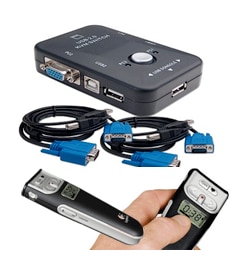 KVM Switch: If you have access to two laptops, a simple KVM switch will allow you to quickly switch between the quiz and the scoreboard. It is possible to run both the quiz and the scoreboard on one – however you would then need to stop the quiz to update the scoreboard, and unplug the cable too, so no-one can see you inputting scores. A KVM switch means you can select one laptop or the other at a push of a button. They are usually VGA, but can be HDMI too.
Wireless Presenter: Don't be chained to your laptop – plug in the Wireless Presenter and you can be anywhere in the bar and advance the quiz – the presenter acts as the 'down' key. It also pays to get one which has volume control, although these are now harder to find – the Logitech models are awesome.
Troubleshooting - What if I cannot get it to work?
If for any reason the videos will play on your laptop but not the TVs, it's a simple fix – you need to toggle between screens. Hit Function and F5 one more time (it may be F4 or F8 on some laptops – look for a TV symbol). You will probably find the picture disappears from your laptop, but is still present on the screen. This changes the big screen to the 'main' source, and it's not relevant if you cannot see it on your laptop really.
If you are having issues getting sound and video, open Powerpoint directly on your laptop, then open the quiz file by using the File, and Open command, then selecting the file you wish to use from your downloads folder. This is also the most stable way to run your quiz. You will need to agree to enable editing, and then select Play Slide Show once the file opens. Another option is to "Optimise Your Media" from the File menu of the PowerPoint file.
Why don't we just make the questions ourselves?
Well in short you can. In fact you may have a quiz already! We think our multimedia quiz is more of a game show, so there's no reason why you couldn't carry on running Merv and Sally's quiz as well, and have two regular quizzes in the village! Using economies of scale means we can charge you a really fair price for an outstanding quiz product. Our multimedia quiz takes approximately 25 hours to make from woe to go. But by duplicating it and sending it across New Zealand, we ensure you get great value for money!